465 Ball sector valve wafer pattern of stainless steel PN 40, PN 25, PN 16 DN 25 - 200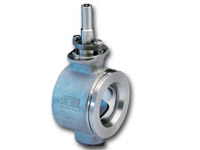 Operation
Högfors ball sector valve is specially designed for control applications of various media like liquids, pulps and steam. This valve is tight to one direction which is shown by an arrow.
Nominal pressure
PN 40 DN 25 - 40
PN 25 DN 50 - 80
PN 16 DN 100 - 200
Closing pressure max 16 bar
Temperature and tightness class
Stellite max +260 °C/ min -40 °C ISO 5208, EN 12266-1 RATE D
PTFE max +200 °C/ min -40 °C ISO 5208, EN 12266-1 RATE A
The max pressure difference depends on the working temperature.
Design
The Högfors wafer pattern ball sector valve is a reduced bore valve manufactured in stainless steel throughout with a hard chromed V-port ball. This valve is available in stellite or PTFE seat. The v-port gives an excellent control characteristic which is intermediate between linear and equal percentage. The shaft packing box has tightable graphite seals.
Nominal sizes
DN 25 - 200
Product code
465KC_ _ _handlever stellite
465KC_ _ _Z bare shaft stellite
465KC_ _ _M manual gear stellite
465TS_ _ _handlever PTFE
465TS_ _ _Z bare shaft PTFE
465TS_ _ _M manual gear PTFE
Special order for steam
46501KC_ _ _

Conform with the requirements of the council Directive 97/23/EC on Presssure Equipement, marking:
Class: Gas, group 1